Last week we looked at memes – their use and the potential they present for digital alchemy. But can we consider them a kind of art?
This week we will look more deeply at the notion of digital art.  And we will consider the way open digital networks might add something extra to the production of digital art.
Welcome to Net Art. Consider a definition.  Perhaps for net.art?
Net art is an elusive and sometimes anarchic art form which uses the Internet as its primary material. Net art works often draw on data from other Internet materials and websites, which helps give them their distinctive dynamics and transience.
— Net Specific: What is Net Art
Can digital art production in the age of the network shed some light on all the internet darkness?
This Week in #NerNarr
In class, we will be reviewing where we have been (i.e. remembering some aspects of internet darkness, and our early consideration of art production on the net via memes).  And we will also start to consider where will be going: ultimately producing a collaborative "field guide" to surviving (maybe even thriving ?) with the Internet of 2019, and beyond.
We will also do some "house cleaning" by reviewing the expectations for class and our practices of blogging and participating.
Overview of Net Art
We will start our conversation this week with a closer look at the way "the digital" has transformed the terms of art production.  From there, we will consider how data and the inclusion of networks have changed whats possible for art production.  These slides will guide us:
In addition, your instructors have selected works of net art to introduce as examples.
Mia Zamora's Walkthrough Example: Datamorphosis
Digital Artist Emilio Vavarella, a studio visit guest in 2018, has a new exhibit on The Other Shape of Things: Datamorphosis
consists of 15 series of sculptures, called Libri (Books), based on the 15 books that comprise Ovid's poem The Metamorphoses. Each series follows the corresponding book and is composed of a variable number of sculptures (ranging from 7 to 23). Each sculpture takes the name of one of Ovid's myths and is produced by forcing a computer to interpret Latin verses about metamorphosis as coding instructions for the production of new sculptural forms.
Alan Levine's Walkthrough Example: Exhausting A Crowd
Exhausting A Crowd by Kyle McDonald offers
"Twelve hours of footage from two days at London's busy Piccadilly Circus is open to annotation, where anyone online can comment on the happenings and people in an accumulating experiment in surveillance and how human intelligence can be enhanced through automation."
Scenes are available also for a public square in Birmingham, a street in The Netherlands, and a busy pedestrian intersection in Gwangju.
Mia Zamora's Walkthrough Example: #SELFIEPOETRY
These works by tonight's studio visitor, Alex Saum include "Fake Art Histories & the Inscription of the Digital Self," which "explores the intertwining of two ideas: the untruth behind artistic or literary histories, and our (il)legitimacy to intervene them to create narratives that make teleological sense".  "Women and Capitalism" deepens the intersection between the Self and its most contemporary representation (i.e., the selfie) within a variety of intermingled structures (familiar, sexual, cultural, neoliberal, #younameit) as they are experienced in the Web. As such, all poems are precarious and distributed experiences built across different social media sites."
Alan Levine's Walkthrough Example: Gif The Dub
Created by John Johnston, an elementary school teacher in Glasgow, Gif The Dub is a toy that mashes up gifs from giphy and sounds from Freesound. Controls provide a means to change the content, and the ultimate creation can be saved as a link. Note: it can be loud!
Net Art Explore and Tweet
Put on your Digital Alchemy goggles and spend some time finding works of Net Art that (a) grab your interest and/or (b) might be making statements, suggestions related to the state of the internet in 2019.
Take some notes (or maybe use your Hypothes.is tools), make screenshots, and as you go, tweet out links to what you find (please include the #netnarr hashtag). Learn as much as you can about the artist behind the work. What messages are they trying to communicate? Share at least two interesting pieces.
Learn More About Net Art
Studio Visit with Alex Saum
Our studio visit this week is a conversation with digital artist Alexandra Saum-Pascual where she will share her approach to digital art.
Join us for another Studio visit, this week with a conversation with digital artist Alexandra Saum-Pascual where she will share her approach to digital art. Alexandra Saum-Pascual is Assistant Professor of Spanish at the University of California, ...
Tasks for The Week
Field Guide Review. Write up your reviewed net art pieces as posts tagged fieldguide that might be of interest when producing a "Field Guide to Surviving the Darkness of the Internet".
DDAs. Complete at least two Digital Daily Alchemy activities this week. Make sure you are including both the @netnarr account and the daily specific tag #dda*** in your responses on Twitter.
<li>Contract Review Kean students must reply by email to their grade contract details and provide a self-assessment of where they are at.
Weekly Reflection From our class activities and hangouts, summarize your introduction to Net Art and speculate on its alchemical potential.
Got GIF?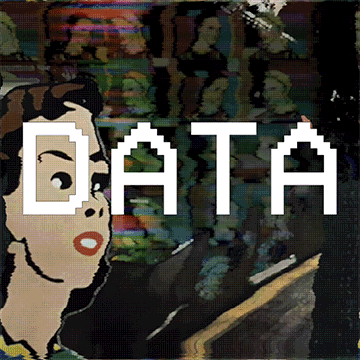 ---
Featured Image: Composite of Willy Wonka meme image from One does not simply make an exhibition about memes – meet the curator who did (in the London Standard) and Wikimedia Commons image Teo Spiller The Book of the Dead (net.art) 4 licensed under a Creative Commons Attribution-Share Alike 4.0 International license.