Our focus for the last segment of #netnarr is on researching and writing a portion of what will become the Digital Alchemist Field Guide – our contribution of light in the darkness of the 2019 internet.

We introduce a theme for the guide, a pursuit of digital wellbeing. The way in there is by a conversation and exploration with the digital alchemy mentor characters we started developing in the previous class.
The Forecast
For the sake of planning, please note the last phase of #NetNarr class (schedule blow).  Our tentative schedule for the next few weeks is devoted to the work on the final project:
Apr 2 (this class) – Digital Wellbeing, further character development of the digital alchemist, initial brainstorming of field guide topic
Apr 9 – Bots (a twitter bot for your digital alchemist); an open workshop for developing your fieldguide contribution
Apr 16 – an open workshop for developing your fieldguide contribution; group activity – sharing your project-in-progress with students at American University Cairo (TBA)
Apr 23 live coverage of Kelli's thesis installation, "open office hours" workshop afterward
Apr 30 Last Class: Presentation and Showcase of field guide contributions & celebration!
May 7 Final Project Deadline, to be submitted and published online as a new issue in the Arganee Journal
Your Digital Alchemist Speaks (well tweets and annotates)
This is the next step in bringing the digital alchemist character you created last week to life online. For reference, see the Conjure Your Digital Alchemist Mentor Make activity. You should have a copy of your own alchemist's profile as a google doc (and have shared it as a response to the Make).
Why are we doing this? The final form of your field guide will be written as a conversation between you and your mentor. The character you create is not omniscient or bearing super-powers, but they are just a bit more aware of your topic than you are. Think of this conversation as someone who knows little about a topic (you now) and someone with more experience (you in the future).
Your next steps are to create both a twitter account and a hypothes.is account for your alchemist to communicate to you and others.
You can do this by (a) logging out of your current account; (b) using a second web browser or device where you are not logged into twitter ir hypothes.is; or (c) in Chrome try File — New Incognito Window.
If you need a reminder of the steps, we have that place for you in the Labyrinthus. Note that you will have to use an email address that is different from what is used in other twitter accounts. You can consider (a) creating a Yahoo mail account (b) creating a new gmail account in a browser where you are not logged into your regular account; (c) If you have a gmail.com account you actually have an "infinite" number of other email addresses — if you add a string after your user name separated by a plus sign, other web sites consider it a unique address, but all email goes to your main account… for example if I am rebegthemagnificent@gmail.com I can use as a unique new address something like rebegthemagnificent+arganee@gmail.com.
Create an account for your digital alchemist character. Use the avatar image you chose in the profile sheet. And in the bio, list some attributes and personality traits… then announce yourself to us all! Like this one:
Awakened. A new form. Looking out to seeing what is stirring in #netnarr What say you @MProphetissima ??

— Vulpes Internetus (@rebegmaestro) March 22, 2019
Now you should get your alchemist talking, finding / following others in #netnarr. Use your twitter to create a new "voice" for your alchemist. Have it converse with your main twitter account.
Now do the same thing for creating an account for your digital alchemist at Hypothes.is
For more reference see the Labyrinthus sections for Creating a New Twitter Account and Creating a New Hypothes.is account
See below for some more things your alchemist can be doing.
Reaching for a State of Digital Wellbeing
We start with an idea of what better wellbeing might be in a time of a failing attention economy.
If this might be a topic of interest- digital distraction? there are more videos in the list of Time Well Spent ones.
For an out-of-class activity, send your digital alchemist to use hypothes.is to find important parts of at least one reading. Have your alchemist leave at least 4 annotations that might be of use to your research and issue at least one tweet of a key finding. For a bonus, send your regular account in to reply. See how this is conversational?
Here are a few suggestions for a look into digital wellbeing– these also may help you think of the topic you will investigate for the field guide.
See also the resources on Digital Well-Being from Commonsense Media including Solutions for Digital Well-Being:
Brainstorming Your Field Guide Topic
We've been talking about the field guide for weeks; next week we will provide even more specific information. But for this week, we want you (and your digital alchemist) to sit in that Arganee coffee shop and try to brainstorm at least two possible topics for you to explore.
The key is picking something not too broad and as well something with specific action steps offered as advice. (Imagine your filedguide entry as prescriptive advice for a family member or a good friend).  What is the issue that is challenging?  What are some steps a friend can take to deal with it in order to maintain a sense of digital well being?
One place to look is among the field guide notes you and your colleagues have been sharing for the last few weeks, see the collection of more than 40 at https://netnarr.arganee.world/tag/fieldguide/
A good focused topic ought to be:
Something you are confused, worried, or even scared about.
Something not too broad (i.e. "Digital Identity", "Advertising Tracking", "Keeping Kids safe", "Digital Redlining")
Something that can result in actionable steps that people might take at an individual level
Something that you can communicate to a friend/family member and maybe a decision maker
Some possible topics might be:
Web browser fingerprinting- how is it done? is it actually used/abused, how to manage/control what is transmitted in every web transaction

How license plate databases are built, what are the legal ramifications, can it be avoided?

Obfuscating your digital tracks by creating noise signals (e.g. Adnauseam or devices to deter facial recognition.) Or how can you track the trackers?
Web cookies- what is actually transmitted? How can they be managed?
Managing online accounts- how to find all of your accounts? How can they be deleted? Can they? Is data really deleted?
Do not worry if you do not have a narrowed topic yet, that will happen in our class discussion and comments on this week's blog post.
Tasks for The Week
Field Guide Topic. Write a new blog post tagged fieldguide that summarizes the two ideas you have made possibilities for your final project. Share why you chose it, and why it's important. What does your digital alchemist think of it?
DDAs. Complete at least two Digital Daily Alchemy activities this week. Make sure you are including both the @netnarr account and the daily specific tag #dda*** in your responses on Twitter.
Complete, and add to your Digital Alchemist Profile doc. Edit your doc to reflect the new accounts for twitter and hypothes.is. Add some more character/personality traits and some notes on any contact you have. Make sure it is set to be shared and you have added it to as a response to the Make assignment.
Add field notes with hypothes.is to at least one article on Digital Wellbeing. Tweet too. Your digital alchemist should leave at least 4 annotations and a few tweets to show they are alive (include the #netnarr tag). You are ahead of the game if your regular account replies.
Weekly Reflection How are you getting to know and communicate with your Digital Alchemist? What are your thoughts on the idea of Digital Wellbeing? How do you feel about your field guide topic.
Got GIF?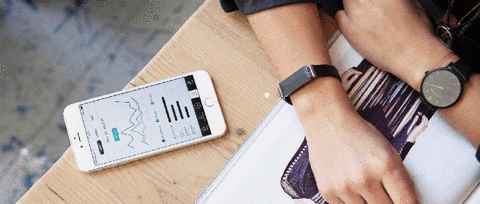 ---
Featured Image: